Protestants argue that Scripture itself is sufficient to support the doctrine of sola scriptura — but a more important question to ask is if one, not having held such a doctrine before, could come to a doctrine of sola scriptura by Scripture alone.
The "Great Apostasy" thesis presumes, first of all, that "true" Christianity originated as something other than Catholic Christianity, but that Roman authorities designed to introduce "pagan" elements into the faith. (Or, in a more moderate form of the claim, gullible and lukewarm Christians — apparently, early Christians were less committed to the truth and orthodoxy of their faith, as well as less intelligent, than modern Protestants? — passively allowed pagan accretions to gradually creep into their doctrine.) Some of the usual suspects for these allegedly "pagan" doctrines include the "worship" of images and statues ("idolatry"); the "worship" of the Virgin Mary and the saints; the Real Presence of Christ in the Eucharist (often less correctly attacked as "transubstantiation"); the understanding of the Lord's Supper as the sacrifice of the Mass; the subjection of correct adherence to Scripture alone to "traditions of men"; and the injection of "works' righteousness" into the true faith in justification by faith alone. In short, the presumption is that "true" Christianity was essentially Protestant, and that any other doctrine particular to the Catholic Church must have been a "pagan" corruption. But is this thesis itself sound?
I argue that this whole "Great Apostasy" claim proceeds from Protestant assumptions about Scripture, doctrine, and the Church — namely, that the Early Church held to the same understanding of sola scriptura ("Scripture alone" as a rule of faith) that later Protestants formulated; that early Christians would have interpreted the Bible in exactly the same way as later Protestants (i.e. that the Protestant interpretation is the correct one); that "true" Christians would have rejected any doctrine not defined explicitly in Scripture, according to that interpretation; and that therefore a Church that believed anything different must, by definition, be "apostate." It proceeds from a very specific conception of "the Church" and Christian practice, defined by Protestant practice, such that, if the Church does not resemble that conception, then it must have fallen away from the truth. To accept that the Catholic Church is "apostate," one must first accept these Protestant assumptions. The result is that this "Great Apostasy" thesis rests on circular logic: The Church was "apostate" if it did not resemble a Protestant one; in order for the Church to be "true," it must be Protestant.
Where does sola scriptura come from? A begged question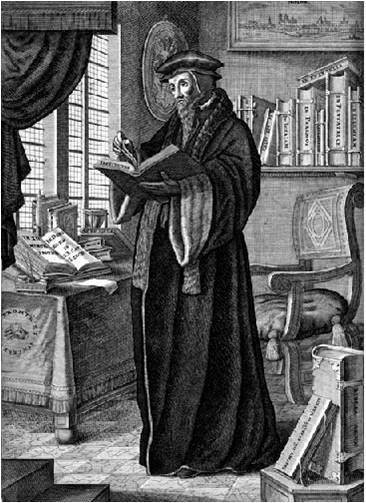 Is there any way to verify the initial assumptions of this begged question? Can we know whether the Early Church was Protestant in belief and practice? Yes, we can, by turning to the very earliest written documents of the Church outside the New Testament, composed within years or decades of the writing of the New Testament itself, if not within that very time period — though many proponents of the "Great Apostasy" would extend their assumptions to say that, if these documents do not verify their Protestant assumptions, then the Church must have apostatized even before then — before the canon of the New Testament was even closed. This stretches the credibility of our belief in a Lord who proclaimed that His Church would stand against the powers of death and that His Holy Spirit would guide His followers into all truth.
But to put a boot into this circular reasoning, I hope, let me ask: How did we, as Christians, come to our understandings of the Protestant church? Where do our understandings of these Protestant assumptions — sola scriptura and all the rest — come from? The Protestant Reformers dictated these doctrines, and professed that they were held by the earliest, "true" Christians — but how did they know they were held by early Christians, if not even the earliest extrascriptural texts can verify this claim? How did they know what they claimed to know, if no one knew it before? It is a basic epistemological as well as an historical question: since this knowledge could not have come from nowhere.
Protestants claim, of course, that their understanding of these doctrines came from reading Scripture alone — but if Scripture had been being read laboriously by exegetes and theologians for 1,500 years, and none prior to them had come to such an understanding — could they truly have come to this understanding by Scripture alone? Is this doctrine of sola scriptura so plainly written on the face of Scripture that all prior exegetes must have willfully ignored it? This is in fact what a claim of "perspicuity" entails. Or, if this understanding depends on a new interpretation, where did this new interpretation come from? If it came from any source outside Scripture alone — even, as Protestants might argue, from a special revelation of the Holy Spirit — then it contradicts the very notion of sola scriptura as Protestants defined it: stating that all doctrine is perspicuously written in Scripture, or else implied by it by necessary consequence.
Perspicuously taught?
If the doctrine of sola scriptura does not itself rest on circular reasoning, then it must be plainly stated or necessarily implied by Scripture. And what is it that, according to the definitions of Protestants themselves, Scripture alone must plainly, or by necessary consequence, teach? Turning to one of the most widely acknowledged statements of Protestant belief, the Westminster Confession of Faith, we find that the authority of Scripture is thus understood:
All things necessary for man's salvation, faith, and life are either expressly stated in Scripture, or implied by necessary consequence. (WCF I.6)
No doctrine may be added to this at any time, whether by new revelations of the Spirit or "traditions of men." (WCF I.6)
Scripture is to be the final appeal of the Church in all controversies of religion. (WCF I.8,10)
There is more, but that's enough for starters. It is these points in particular that give rise to Protestant prejudice against the Catholic tradition, and support conclusions about the "apostasy" of the Church. How is it that Protestants draw these tenets from Scripture? Where is this perspicuously written?
Even when so confronted, there are only a few verses of Scripture that Protestant exegetes are able to produce in support of sola scriptura. But what do these verses actually, perspicuously dictate?
"Do not go beyond what is written" (

1 Corinthians 4:6

)
Paul writes, in his first epistle to the Corinthian Church:
I have applied all this to myself and Apollos for your benefit, brethren, that you may learn by us not to go beyond what is written, that none of you may be puffed up in favor of one against another. (1 Corinthians 4:6)
Ripped from its context, this verse appears to be sure support for the argument that the Church is not to go beyond what is written — that is, surely, Scripture — in anything she does. As a corollary, it is assumed, the Church should remain within the parameters of the doctrine taught in Scripture.
But even a closer examination of this single verse calls into question this interpretation. Why is it that Paul's recipients should not go beyond what it is written? Is it to preserve the Church in doctrinal purity, to exclude error or accretion of unscriptural tradition, to maintain orthodoxy — as the Protestant understanding of sola scriptura would lead us to believe? No, it is that [ἵνα (hina), in order that, marking a purpose clause] none of you may be puffed up in favor of one against another. What, then, is Paul talking about? What is written that he is referring to? Apparently whatever is written is meant to address this matter of prideful self-aggrandizement. Has Paul previously referred to such a passage?
Sure enough, he has, earlier in the same letter — making his references explicit by similarly noting what is written:
For the word of the cross is folly to those who are perishing, but to us who are being saved it is the power of God. For it is written, "I will destroy the wisdom of the wise, and the cleverness of the clever I will thwart." (1 Corinthians 1:18–19)
He is the source of your life in Christ Jesus, whom God made our wisdom, our righteousness and sanctification and redemption; therefore, as it is written, "Let him who boasts, boast of the Lord." (1 Corinthians 1:30–31)
For the wisdom of this world is folly with God. For it is written, "He catches the wise in their craftiness," and again, "The Lord knows that the thoughts of the wise are futile." So let no one boast of men. (1 Corinthians 3:19–21)
These references to what is written plainly refer to prideful boasting — being "puffed up." This is the specific context of Scripture beyond which Paul admonishes his readers not to go beyond — to learn from his humility, clearly the context of 1 Corinthians 4 and surrounding chapters. This single phrase, not to go beyond what is written, separated from this context, cannot be taken as any sort of far-reaching doctrinal dictate or prohibition. This verse fails to offer the support for sola scriptura — let alone the plain, perspicuous pronouncement — that Protestants seek from it.
The matter of the Bereans (

Acts 17:10–12

): "Examining the Scriptures to see if these things were so"
Luke writes, in the Acts of the Apostles:
The brethren immediately sent Paul and Silas away by night to Beroea; and when they arrived they went into the Jewish synagogue. Now these Jews were more noble than those in Thessalonica, for they received the word with all eagerness, examining the scriptures daily to see if these things were so. Many of them therefore believed, with not a few Greek women of high standing as well as men. (Acts 17:10–12)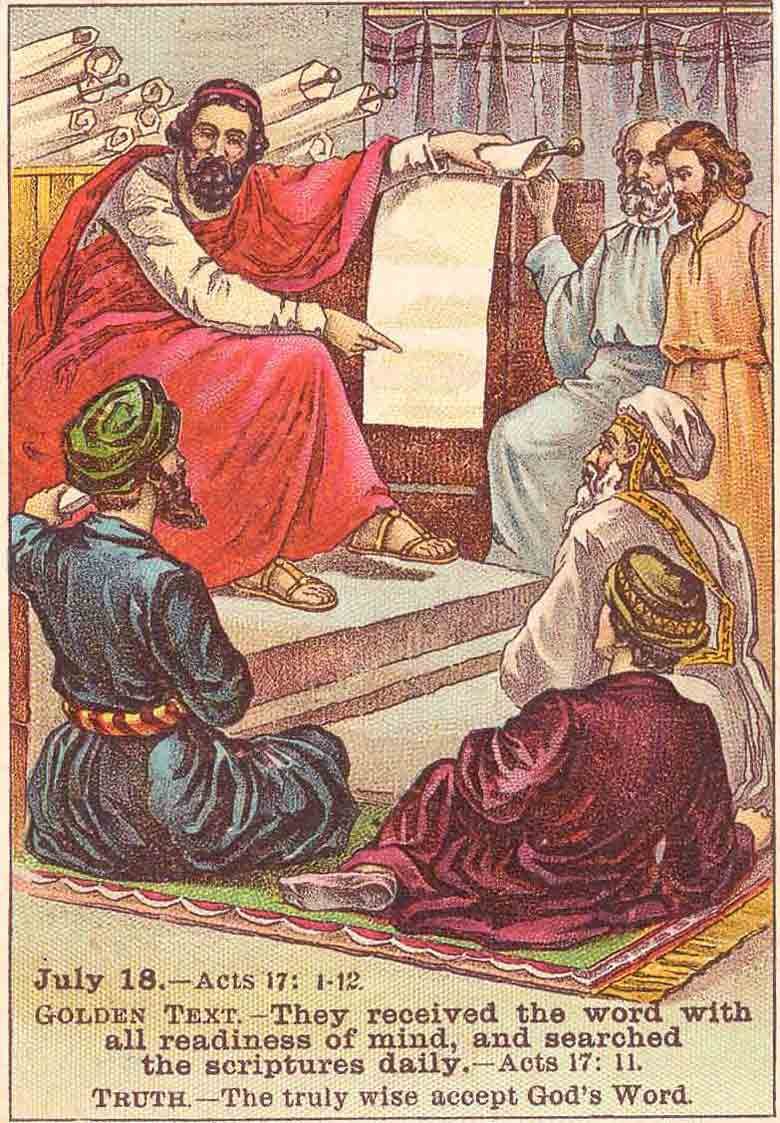 The Bereans are so often held up as the picture of sola scriptura in practice, praiseworthy in their commitment to Scripture. And it is certain that they were faithful to God's Word. But is this really the same thing as what Protestants practice? What Scriptures did the Bereans examine, and what is it that they sought in them? The word they received was the gospel of Jesus Christ, the good news of his coming, Death, and Resurrection. The Scriptures they read were the only ones available to them, the Old Testament (most likely in the Greek Septuagint), since the New Testament had not yet been written. And in the Old Testament, they verified the fulfillment of prophecy that Jesus brought, the thrust of the gospel that Paul and Silas taught, which is what would have been convincing to faithful Jews. So it demands the question: Does the practice of the Bereans resemble the Protestant practice of sola scriptura? Does this Scripture passage offer the perspicuous support that doctrine demands?
It is plain that it does not. Does it demonstrate that "all things necessary for man's salvation, faith, and life are plainly stated or necessarily implied by Scripture"? No, it does not: While the Bereans were able to verify Christ's fulfillment of prophecy by Scripture, they could not have come to knowledge of Him without the preaching and illumination of Paul. Does it demonstrate that "no doctrine can be added to Scripture"? No, it does not: The message of Jesus taught by Paul, His life and mission and way of salvation, were all "new doctrine" not plainly stated or even necessarily implied by the Scripture of the Old Testament; and if the Bereans had held to a Protestant understanding of Scripture, not accepting any doctrine that went beyond it, they would have rejected Paul and the gospel of Christ. Does this passage demonstrate that Scripture must be the final appeal of the Church in matters of controversy? No, it does not address this at all. Plainly, then, this passage does not offer the support for sola scriptura that is necessary for Protestants. It does not teach this doctrine perspicuously, nor could it have led anyone to hold it who did not hold it before.
Parting Exhortations (

2 Timothy 3:14–17

): "Equipped for every good work"
Among Paul's final words to Timothy were this exhortation:
But as for you, continue in what you have learned and have firmly believed, knowing from whom you learned it and how from childhood you have been acquainted with the sacred writings which are able to instruct you for salvation through faith in Christ Jesus. All scripture is inspired by God and profitable for teaching, for reproof, for correction, and for training in righteousness, that the man of God may be complete, equipped for every good work. (2 Timothy 3:14–17)
This is by far the Scripture most commonly cited by Protestants in support of sola scriptura. I have written at greater length about it before. Supposedly, according to the argument I often hear, this offers proof that Scripture alone is profitable for these good purposes, that Scripture alone can instruct us for salvation, that Scripture alone can complete a man to be equipped for every good work; and that, therefore, if Scripture does not equip us for it, it is not a good work. This, presumably, is meant to exclude any doctrinal element not plainly found in Scripture — since, the man of God, already "complete," has no need of anything else.
But that reading fits neither this Scripture passage nor its context. Paul, again, is not advising the Church in doctrinal matters; he is exhorting Timothy to persevere in good works. In this, does he mean to limit the good works to which Timothy is called, or forbid him from any practice or activity? No, clearly not: he is extolling the inspiration of Scripture, all its merits and applications, and all the good works for which it can equip the believer. There is nothing prohibitory about Paul's statement here. Does he mean to be exclusive, as if to say that Scripture alone is profitable for good works, or Scripture alone can instruct one for salvation? There is nothing about his words that imply this.
Even taken at its most literalistic, this passage does not offer the perspicuous support for sola scriptura that the doctrine demands. Does it clearly teach that Scripture teaches all things necessary for salvation and life? No, it merely shows that Scripture is instructive (it can make one wise) for salvation. Does it teach that no doctrine may be added to the plain teachings of Scripture, or that no doctrine outside such plain teachings may be believed? No, it does not speak to anything outside Scripture at all. Nor is Scripture as a means for resolving doctrinal controversy (let alone the sole means) included among Scripture's worthy applications. This passage, like the other passages, fails to teach plainly or necessarily the doctrines and claims that Protestants make about scriptural authority.
True Scriptural Authority
To many Protestants, a notion of church authority rooted in sola scriptura appears to be common sense. Scripture is Holy Writ, the very written Word of God — why wouldn't it be the Church's ultimate authority? The suggestion of any qualification to this authority appears to be abject heresy, the placing of human authority above that of Scripture. But in fact, the Catholic view presents completely the opposite.
It is the Protestant view, paradoxically, that ultimately compromises the authority of Scripture, by subjecting it to private human interpretation. For Scripture is effectively of no authority at all to the person whose private interpretation disagrees with the one being asserted; that is, any given interpretation of Scripture is only as authoritative as the person giving it, or as the hearer himself accepts it to be. Where is the absolute, infallible authority of Scripture in this? The Westminster Confession declares that Scripture is to be the final authority of the authoritative Church; but who interprets Scripture if not the Church? Protestants themselves deny the possibility of the Church, guided by the Holy Spirit, being an infallible interpreter of Scripture; therefore, any interpretation given by the Church is by definition fallible and questionable. Any Christian who disagrees, who has his own divergent, private opinion, is free to dismiss whatever authority the Church claims to have, citing, ironically, the divine and infallible authority of Scripture: when in truth he appeals to nothing more than his own private opinion.
The traditional, Catholic view — the view held in all the ages of the Church up until the schism of the Reformation — is not the opposite of this; it is not a subjection of the authority of Scripture at all, but rather its affirmation. In order for His Word to continue with an authoritative voice, He appointed His Apostles to teach in His name (Luke 10:16), and this teaching mission continued to the bishops and presbyters they appointed (1 Timothy 3:2, 4:13, 5:17, 2 Timothy 2:2, Titus 2:1, etc.). Not just anyone had the authority to teach and interpret Scripture, but only those duly called by God and ordained by the Church (1 Corinthians 12:28, Ephesians 4:11, 1 Timothy 3). And He gave the Church the Holy Spirit, that He might guide her into all truth (John 16:13). For the Catholic Church too, Sacred Scripture is the highest authority, together with Sacred Tradition — the ultimate recourse in matters of doctrine and faith — but as the chaos of Protestant division demonstrates, Scripture cannot speak for itself. It is only through the authoritative voice of the Church's whole magisterium, in accord with Scripture itself, that the Word of God can authoritatively speak.
Sola scriptura is self-refuting
Sola scriptura is ultimately self-refuting. The doctrine of sola scriptura demands that Scripture teach all doctrine plainly and perspicuously, or else by necessary consequence — and it does not teach itself. No reader of Scripture could have arrived at the specific requirements and conclusions of sola scriptura as defined without presuming them to begin with: the doctrine rests on circular reasoning. Moreover, to even be able to define "Scripture" — to possess a canon of inspired, authoritative, scriptural books to which to appeal — one cannot stand from Scripture alone, but must refer to the traditional agreement and resolution of Christians in the Church. And thus, to begin one's reasoning about the Church and Christian history from a position of sola scriptura from the outset is an unjustified and prejudicial assumption. To hold the Early Church, or the Church in any age, to a Protestant, sola scriptura standard, is to place limitations upon Christians that they neither observed nor understood themselves.
The proof of this is in the history of the Church itself: Early Christians, generations upon generations of whom paid for their faith in their own blood, were certainly no less committed to the truth and purity and orthodoxy of Christian doctrine than modern Protestants; in fact, it was precisely for the cause of orthodoxy that many of them suffered persecution and even death (see especially the matter of the Arian heresy). These Christians — who held no less to a closed deposit of faith in the revelation of Scripture and Tradition than Protestants — did not accept, at any point, new and novel doctrines never before taught, let alone the corruption of their faith by visibly pagan and syncretistic doctrines injected from pagan or secular society. And yet these same Christians did not feel themselves bound by a rigid restriction to Scripture alone — which was certainly never taught by Jesus, the Apostles, or their disciples — but accepted Scripture for what it is: the divine, infallible Word of God; the continuing voice of their Lord to His Church, to teach, correct, exhort, encourage, and guide — not to shackle or condemn the rest of the Sacred Tradition of the Apostles, but to affirm it, support it, and verify it. They did not close their minds or their hearts to the development of Christian doctrine, to the flowering of the seeds planted by their Lord and His Apostles, as the Church grew in understanding and pondered upon the truth having once been revealed.